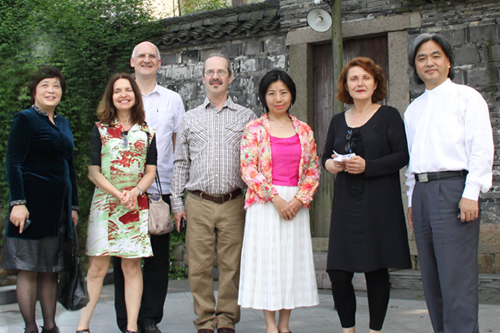 The group photo of the judging panel of " International for Public Art Award". From right to left they are respectively Wang Dawei, Fulya Erdemci, Yuko Hasegawa, Jack Becker, Lewis Biggs, Katia Canton and Ling Min.
The International Award for Public Art was co-founded in 2011 by the two magazines Public Art China and Public Art Review (USA) with the aim of propagating knowledge about the practice of public art globally. The theme of the first award process is place-making, and to qualify, the public art projects had to be completed between 1 January 2006 and 30 September 2011. The projects could be realised anywhere, and artists could be of any nationality.

A total of 141 projects from around the world were researched, including temporary and permanent projects. The projects were selected for the centrality of the artist's role, for their effectiveness in place-making, for their professionalism, their innovative design and the quality of their technical construction.

The variety of public art forms researched and documented for the prize reflects cultural expression in modern life around the world. Among the place-making projects to be researched were: mural painting, sculpture, community transformation projects, space conversion and art events, among other forms; most of them were concerned not only with the spatial environment, but also with the cultural and historical context of place, and different views concerning daily life whether urban or rural.

The projects may have initiated or be integral to community development, or the reconstruction and remodeling of a place; the artist's special contribution may be to highlight the cultural or ecological significance of a place. Murals and sculptures, in the context of the contemporary practice of public art, no longer have simply a decorative function as "environmental murals" or "urban sculpture". Neither do these works in the main rely on the artist's individual language or style, but instead they focus on expressing clear social values ​​and cultural ideals. So they illustrate profound propositions about contemporary culture at different levels, reflecting contextual relationships within the urban environment.

The jury was composed of outstanding experts in international contemporary public art who made a in-depth study and commented on the 120 projects from around the world that had been documented by the researchers. From these preliminaries, Public Art (China) and Public Art Review (USA) will hold a Presentation Ceremony for International Award for Public Art during a Public Art Forum on 29 March-1 April 2013 in Shanghai, China.

Organizing Committee:

Chairman:
Wang Dawei(CHN)
Jack Becker (USA)

Vice Chairman:
Lewis Biggs (UK)
John McCormack(NZL)
Lu Fusheng(CHN)

Secretary-General:
Jin Jiangbo

Deputy Secretary-General:
Pan Li
Ling Min

Members:
Wang Jue,Wang Hongyi,
Liu Jingming, Ruan Jun,
Li Wei, Cen Moshi ,
Son Guoshuan,Zhang Yujie,
Zhou Xian, Chen Yang,
Chen Wenjia, Ji Chunxiao,
Zheng Xiao,Yao Jian,
Zhong Guoxiang, Hu Jianjun,
Chang Hao, Zhang Lili,
Jing Shuting, Dong Shunqi,
Fu Mengting,Cai Jianjun